August the 15th is the feast of the Solemnity of the Assumption of the Blessed Virgin Mary and it is the one of the oldest feasts of the Church celebrated in honor of Mary. It was traditionally believed back in the 5th Century that Mary's body was taken to heaven - that she did not face corruption of the body since she was preserved from Original Sin, and the feast has been celebrated liturgicallly since 600 A.D. This belief by Catholics for centuries was solemnly defined by Pope Pius XII in 1950, namely, that after Mary's death, God raised her body and she lives with God. Pius XII proclaimed that the Assumption is a truth revealed by God in the encyclical Munificentissimus Deus (November 1, 1950).
The central part of the dogma's proclamation states:
"We pronounce, declare and define it to be a divinely revealed dogma: that the Immaculate Mother of God, the ever Virgin Mary having completed the course of her earthly life, was assumed body and soul to heavenly glory."
Munificentissimus Deus calls upon the ancient liturgical celebrations and the constant belief of the faithful as major reasons for the dogmatic definition. Vatican II re-emphasizes this teaching and connects the life of Mary with that of the Church:
"In the most holy Virgin the Church has already reached that perfection whereby she exists without spot or wrinkle." "In the bodily and spiritual glory which she possesses in heaven, the Mother of Jesus continues in this present world as the image and first flowering of the Church as it is to be perfected in the world to come. Likewise Mary shines forth until the day the Lord shall come as a sign of sure hope and comfort for the pilgrim People of God." - Lumen Gentium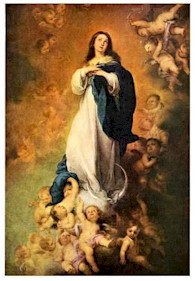 Mary's life is one of innocence, patience, faith and love. It is good for us on this special feast of Mary to honor her with our prayers and to thank God for the gift of Mary who nurtured her child, Jesus, taught him and protected him. She was connected to him in many ways but especially in the fire of His love.

It was this fire of love that consumed Jesus, this fire that ignited His compassion, and kindled His mercy. It was this light and this heat that touched sinners, that healed lepers, that cured blindness and deafness that ultimately invaded the tombs and raised the dead. It was this fire that blazed in His every word, His every action. We have all watched fires burn out. We have all seen the light of inspiration flicker and die. We have witnessed all sorts of crusades and movements that capture the spotlight for a short while, then disappear. The amazing thing about the fire that burned within Jesus is that it never dies! It never died within Mary, and it stayed with her even as she watched her Son die a most terrible death. And it was her innocent faith and quiet fidelity to Him that allowed her to become intimately connected to all of us in that same burning Love.
Her example to us is one of unprecedented faith, allowing her to say "your will, not mine, be done" - allowing her to be present to God, to herself and to each person who walked through her door and into her heart. This simple faith is something that we all need. You and I are not called to heroism. We are simply called to be the best we can be - a son or daughter, wife or husband, a neighbor, a friend. The way we live - what we say or do for one another reveals God's love and mercy for the world, and enables us to come to a new beginning.
As Fr. Basil Pennington says: "a new beginning, first of all in our own lives, so that we can make a new beginning as a human family, loving, trusting and caring for each other all throughout this nation and throughout this globe of ours, the shared home of us all."
The Assumption is a feast when we celebrate the gift of life - the life given to us by God, the life of God in us, and the way to be strong disciples of Jesus by following the example of Mary, the Mother of God.