"You were once darkness, but now you are light in the Lord. Live as children of light..."

These opening words from the letter to the Ephesians set the scene and focus on both of today's readings: the conflict between light and darkness - between good and evil. But before getting too comfortable, we should also realize that this message is also a wake-up call. The struggle is far from over. As "children of Light" we still must be strong and vigilant to do what is "pleasing to the Lord," and to "produce every kind of goodness."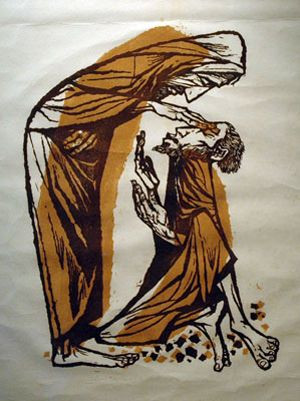 The Gospel today gives us a vivid and dramatic miracle story. It is not only about the cure of the blind man, but the deeper light-giving that happens as the man faces opponents and naysayers to his experience. This is a pretty long story today. Yet if we listen to it attentively and reflect on its details, what should jump out at us is that this story is not just about the healing of a blind man. It is our story - our individual story and our community story as well.
We may not need the restoration of physical sight. But what we do need is vision — something to get us moving in the right direction. We need to see who we are before God, where we are going and what we must do along the way.
In the story Jesus changes the man's condition. He cures two forms of blindness. He enables both the man to see and his disciples to get a different perspective. Jesus doesn't just see one person who is ill. He sees another example of the human condition he has come to alleviate.
Blindness is a universal ailment that afflicts all of us. We are blind to God's presence in our lives, to the needs of our neighbors, to people of other races, religions, nationalities etc. In our blindness, we would rather build walls of separation and construct social barriers than welcome the stranger into our midst and address the needs of the refugee.
The healing happens quickly. Jesus gives the man his physical sight, but that is just the first step on the man's journey to spiritual sight. In the confrontation he has with the Pharisees the man will continue to progress from his newly acquired physical sight to spiritual sight.
This is a challenging gospel story and today we have another opportunity to check our own vision. We can look back and reflect on what choices we have made in our lives.

Like the blind man in today's story, our eyes have been opened. We can see that people of other races and nations (even those some name as enemies) are our sisters and brothers. We can see that having all we ever wanted can leave us dissatisfied and poor in God's sight. We can see that even in sickness and old age there is great value and beauty. We can see that God is not someone on high to fear, but someone up close who walks our life with us in loving companionship. We can see the people we value are not always the ones others call "important."
"You were once darkness, but now you are light in the Lord. Live as children of light..."