Today we come face to face with a stark reminder that if we are to be followers of Christ we must be willing to be like a grain of wheat, dying so as to bear "much fruit." In response to the request of the Greeks, Jesus moves our attention to his suffering, death and resurrection, which we will soon be celebrating during our Triduum. At first the request and response might seem to be disconnected; but they are not. Jesus will face his death with a determination to see it through and not flee. Contrary to our experience of death as a final destruction, Jesus sees it as a moment to give glory to His Father. Those who see his death through eyes of faith will also see God's hand in rescuing Jesus from death.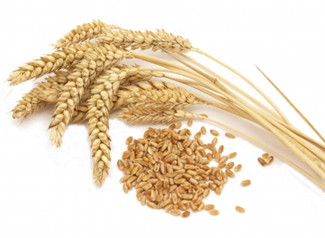 God has promised to make a new covenant, a covenant "written upon their hearts." Jesus is that new covenant and in him, God has united Himself to us with bonds that can never be broken. Jesus looks death in the eye and sees victory - because through his death the new covenant is established. We, too, are assured of this new life because we look upon Jesus as the one "lifted up from the earth." He raises us up with himself to a new life, a forgiven life.

The way through death is the way to eternal life for his followers. This is how He takes us to God. If we live the servant-life Jesus did, then it will mean death in one way or another for us: death to self-preoccupation; death to our independence and detachment; death to doing things our way. As Jesus' followers, we die everyday in the decisions we make to choose him and service to God through neighbor, above our own self interests and desires.
If we should wonder where God is in the mess of our lives, or why the lovely, neat and orderly way of life that we all seek doesn't seem to materialize, then all we have to do is look to the cross and know that this is our inheritance. The cross reminded a captive people that they could be abused and tossed aside as trash if the powers that be thought they were insubordinate or troublemakers. But the scriptures tell us that God uses power in a different way.
Jesus was a threat because he talked about a kingdom without boundaries and guarded borders; where people were equal, not a society of a few privileged citizens and the rest treated as underdogs; where people weren't expected to fit in and be like everyone else, but where diversity was valued; where inclusivity was the norm; where power wasn't the instrument to exert the will of a few, but love and service would be the attraction to membership. Jesus calls this the Kingdom of God.
We can either accept what we hold in faith about the death of this "grain of wheat" - and fashion our own lives accordingly - or we can look upon the crucified one as having lived a foolish and wasted life - and reject his message. The world powers rule and govern from exalted thrones and military might. Jesus rules from the cross - by the cross and his resurrection, he draws everyone to himself.

Jesus' ministry was almost exclusively confined to his own people. The Greeks who came asking to see him represented the Gentile world. How would they come to believe in Jesus? Jesus said, "And when I am lifted up, I will draw everyone to myself." Jesus is no longer in the world in the flesh; but we are. The voice from heaven is not directed at Jesus, but to those standing nearby and to us who hear it now.
Before all else, the Gospel invites us to respond to the God of love who saves us, to see God in others and to go forth from ourselves to seek the good of others. We cannot allow this invitation to be hidden from our sight.