I imagine that, at times, the people around Jesus just didn't quite know what to make of this itinerant preacher. Jesus never did anything "by the book." He didn't "play by the rules" of the day. He certainly did things that were totally unexpected and said things that must have been counter to the popular opinions of His day. Jesus made people feel uncomfortable - He asked them to do things they would rather not do.
John the Baptist pleaded with him that it was he who should be baptized. A few years later, Peter would argue that Jesus would never wash his feet. The Pharisees liked to point out that anyone who frequented with tax collectors and sinners could not possibly be the long-awaited Messiah, the Holy One promised to deliver the Israelites from their enemies.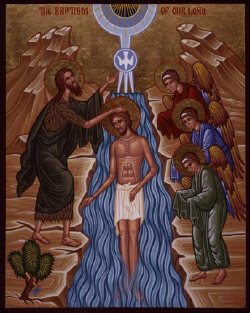 But all throughout His ministry, Jesus unveiled a new plan, one revealing a startling new way of looking at the promised reign of God; one that would come about not through power, or force or military conquest, but through compassion, gentleness and peace ("a bruised reed he shall not break, and a smoldering wick he shall not quench"). The Baptism of Jesus was a beginning - the beginning of the mission of peace and justice, pre-figured in the Servant passage of Isaiah and echoed by the heavenly voice: "This is my beloved in whom I am well pleased."
Baptism is an extraordinary time in our lives as well: a time of wonder and awe, a celebration of hope and promise for us and for our families. But it is also the beginning of a challenging commitment to live the difficult and demanding life of the Gospel.
The whole of the Christian life is like a great pilgrimage to the house of the Father, whose unconditional love for every human creature is something we rediscover anew each day. This pilgrimage takes place in the heart of each person; it begins there, but should extend to the believing community, and then reach out to the whole of humanity.
The challenge of Baptism is one that requires us to look deeply into our own hearts and souls. We have been blessed to have received the Good News of Salvation. But this is a continuing challenge.
Like those who have gone before us in faith, we do not have the option of saying: "I can't do this - I'm not trained for this - there are others more qualified." John had to baptize, Peter had to be washed - the ministry of service exemplified in the life of Jesus is our inheritance and our responsibility.
The mission of Baptism calls us to proclaim Jesus Christ as Lord and Savior - even when the Gospel message is unwelcome- in our own hearts or in the world around us. We must truly become brothers and sisters, a pilgrim community in which all are loved, honored, and respected. And it is our responsibility - our public ministry - to be the presence of Christ in the lives of others - even among those who do not believe.
The Feast of the Baptism of the Lord brings the beginning of "Ordinary Time" in the Liturgical cycle. The Scriptures and Liturgies of Ordinary Time will remind us of the ongoing implications of our Baptism: that moment when God seized each one of us, made us His own in a special way, anointed us with His Spirit, and commissioned us to continue the mission of Jesus. This will be a time when we are again seized by God, anointed by the Spirit, declared to be His beloved - to be light - to bring justice - to heal the bruised - to help keep flickering lights from going out....