Despite our faith and trust in God, we continue to link goodness and holiness with health; fault and sin with sickness. They certainly did that in Jesus' time. If you were sick, you must have sinned and you were receiving just punishment. Sickness was associated with sin and therefore linked to religious attitudes. There was an extra burden placed on someone with leprosy - or what was believed to be leprosy. Not only did lepers have to suffer the torments of the disease; but they had to live outside the community; even religious gatherings were prohibited to them.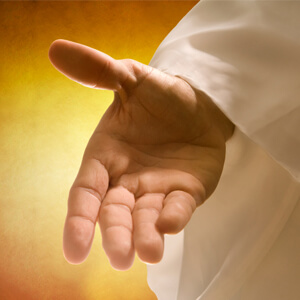 But when the priest declared a leper cleansed, that person would no longer have to live "outside the camp." Jesus ordered the man to "go show yourself to the priest and offer for your cleansing what Moses prescribed, that will be proof to them." This is more than an account of one individual being healed. The cure has social implications. Broken relationships, isolation and exclusion are now healed. The man will return to his family and the community.
Maybe one reason Jesus responded to the leper in today's Gospel story is that he identified in some way with the man's condition. He too would be an outcast from his family and people. He would, in effect, be declared "unclean" and cast out of the city to be executed. When "examined" by the priests, he would be found unclean, not a true member of the community nor of the people's religion.
Jesus cures the leper with a word and a touch. In many of his other miracles a simple word is sufficient. But here Jesus does the unthinkable; he touches the leper, making himself ritually unclean along with the leper. Jesus is "touched" by the leper's need, but Jesus too is like the leper and the touch identifies him with all lepers.
It is clear that Jesus wanted to bridge the gap between himself and the leper; and there is a lesson to his disciples here. Whatever has been broken and torn apart in human life, Jesus reaches out to touch.
He does that now through us, so we cannot be uninvolved in the broken world around us where many are kept at a distance because of their race, national origin, lack of education, poverty, physical condition, gender and sexual orientation. We can write a check to help others; but that can't be our only involvement with our broken world.
This is a problem that all followers of Christ struggle with. There is a sense of paradox in our journey of faith. God makes us in his own image, with incredible power of intelligence and unlimited freedom of choice ...but He clothes us in flesh; we are charged with very volatile emotions and passions, strong likes and dislikes, powerful instincts of love and hate; but then are challenged to be perfectly holy, so as to reflect the very holiness of God. Jesus is a very difficult model to follow. How can he make outrageous demands on our sense of the reasonable? How can he believe that we can transcend all of the limitations of our fragile nature?
The answer is wrapped up in the ever-present mystery, at the heart of our Christianity, of dying to ourselves so that the love of God and neighbor might come to full bloom in us. The Crucified Christ teaches us how to die... and the Risen Christ teaches us how to live. The Cross conditions us to self-denial, to contradiction, to failure, to foolishness for the sake of love. The Empty Tomb assures us that the victory and the power of the Risen Lord are ours.
If our lives reflect what we believe, then they would be a clear proclamation of the good news. The gospel today reminds us that, through Jesus, we have all been made whole. The parts of our lives we and others would consider untouchable, have been touched by Jesus. His compassion for us prompts him to reach out to touch and heal us. What has happened to us, we pass on to others - not afraid to reach out and touch those in need of our compassion, understanding and forgiveness.
We are disciples on a journey of hope. Along the way, we often stumble and sometimes we wander off along the wrong paths. Ours is a journey of becoming whole, of growth, and of learning - learning that being his follower is not just something we do, it's what we are; learning that Eucharist is not just something that brings us nourishment and healing, but rather that which we must always strive to become.
Indeed, "Good News."