Jesus promised His disciples three things: that they would be entirely fearless, absurdly happy,
and that they would get into trouble. - W. Russell Maltby
The tenth chapter of the Gospel of Matthew is generally called the "Mission Discourse" or the "Apostolic Discourse" because within it we get to see how Jesus extends the mission that He received from His Father to His disciples. He outlines to his disciples what they can expect if they choose to follow Him; He tells them that they will encounter the same hostility He has encountered, and that they need to be aware of the high cost - as well as the rewards - of discipleship. Preaching the Good News will be hard work and it will based on the simple value of service, of hospitality.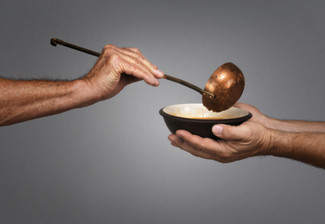 This Sunday's Gospel passage contain the closing verses of this discourse, and Jesus likewise offers his presence and his mission to us, reminding us that this, too, involves a crisis of ultimate choice and loyalty.
To live the Gospel is to be identified totally with Jesus. Today's passage is preceded by three verses which are not read in today's Gospel: "Do not think that I have come to bring peace to the earth; it is not peace I have come to bring, but a sword. For I have come to set a man against his father, a daughter against her mother... one's enemies will be those of his own household." The Messiah was expected to bring "peace" but Jesus' words deflate any hope for a cheap or superficial peace. No allegiance can be allowed to push aside the Gospel and the Jesus it proclaims. The commitment to the Gospel that Jesus challenges us to accept is not one of blind fanaticism, but the discovery of life itself. And we are told right up front that it will be no easy task.
You and I are asked to be Christ's disciples today. To walk in the footsteps of the Master means to put aside self, willingly, generously, and with absolute trust. It's unlikely that we will lose our lives for the Gospel. Nor does it seem likely that we will be asked to give up all of our physical possessions to follow. Yet, being a follower of Christ today is just as challenging if we take up the full mantle of its meaning. It means giving without measuring the cost. It means putting our hands to the plow and not looking back. It means putting on Christ, allowing him to live in us and through us. By His grace, we deny self, we take up our cross, we lose our life... but we are absolutely certain that with Him we shall inherit the fullness of life and happiness, forever.
Our instinct for survival fights fiercely against any threat to our identity and our existence. All of the forces of the modern world, of science and technology, all of the sophisticated developments in the field of psychology combine to teach us to love self, to cultivate a strong self-image, to resist and overcome anything that would diminish the quality of our lives. And yet, Jesus seems to be saying that when we choose to become his followers, we must act immediately, we must choose to give up our own identity and, in some sense, even our own life... because this is the only way we can really discover our true selves.
And understanding this is the only way that we can really grasp the final words of the "Mission Discourse." One who lives the life of the Gospel, whose life is genuinely identified with that of Jesus, has become a sacred presence to others. This sacredness might be masked by the weakness, the half-faith, the fears and doubts that Jesus' first disciples carried with them. But even a cup of water to one of these "little ones" will not go unrewarded.
A cup of cold water is a little thing, but it can transform the world if we make use of it for the love of God and of our neighbor. A cup of cold water is nothing, but faith can transform it into a treasure of grace and strength which even allows mountains to be moved.
For a disciple of Christ, there is never a time when we cannot be a gift to others. God's love is alive in us whenever we witness to our love for God by bringing peace and compassion to our neighbors; whenever we witness to the reconciling mercy of God in word and action; whenever we are peacemakers; whenever we encourage one another and stand in solidarity with one another. We may not have miraculous powers to heal, but all of us have the capacity to comfort and affirm people who may be hurting in some way. Whatever gifts we have, the gifts of listening and reassuring, the gifts of serving and volunteering - all these gifts have been given to us by the Lord to be given away to others. If we can do this, then the stranger among us is no longer a stranger, but a member of the family, more than welcome, like Elisha, to enjoy a room in our house, our community, our Church.
The mission discourse pulls no punches; anyone who preaches the Gospel with integrity will experience both pain and joy. It is directed to all who read the Gospel, not just a select few. How do we live this message and make it real? And in what ways do we experience the things Jesus speaks of? There is an urgency in Jesus' words. The gift has been offered to us, the invitation to follow has been made, the instructions have been given.
The choice is ours.