It is hard to believe that it is September! The quiet, refreshing time of summer is gone. It's time to start over again, time to fire up the boilers and turn over the engines. The machinery has been overhauled and is ready to go.
I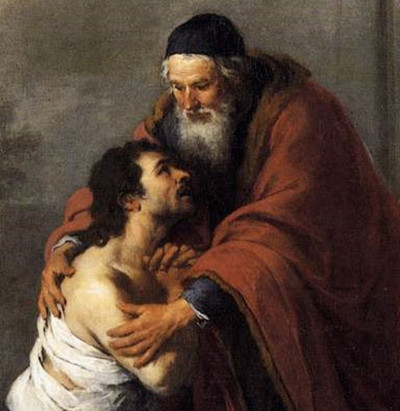 n most parishes, September is formidable. The School rooms fill up, CCD programs begin, weekly and monthly meetings resume again for support groups, RCIA programs are initiated, and we think ahead to plan Liturgy for Advent, Lent and Easter/Pentecost. Sleeping giants come to life once again.
The Gospel Reading for this Sunday is very appropriate. Jesus tells stories about a lost sheep, a lost coin, a lost son and a loving father. These are stories of failure, repentance, forgiveness, of joy and reconciliation. They are stories of starting over - of beginning anew.
There are no more important lessons for us to learn as followers of Jesus than that of giving and accepting of forgiveness, of welcoming all of our brothers and sisters into the embrace of our community and loving as totally and as recklessly as our God has loved and accepted us. If we haven't learned that, we really haven't learned the meaning of being Christian. We seem to understand quite well the point that Jesus was trying to make. No matter how terribly we have failed, no matter how far off course we may wander, our God is ready and waiting to reach out in a loving embrace of forgiveness. All we need to do is ask.
Beneath the surface of all of our activity, this same challenge is played out again. We will be tested as a faith community. Jesus will ask us to walk in His footsteps, to follow the narrow road, to meet with opposition and misunderstanding and, in many ways, to die with Him.
We should be clear about our identity and our choice. We need to grow constantly in our understanding of Christian discipleship. We need to take ownership of our faith, and be willing and generous followers of our crucified and risen Lord.
"Starting over" means new opportunities for growth and change. And this is a challenge for both leaders and followers. Every member of the Christian community contributes to the quality of our faith, our worship, our teaching, and our serving. Each of us must reexamine our own commitment to discipleship and stewardship.
More and more we understand the Church to be the "qahal Yahweh," the Community of the People of God. This community is the coming together of not just priests, deacons and religious, and not just lay leadership. Leaders without faithful and generous followers are useless. This means that we are all equally a part of this community.

"Starting over" brings tension into our lives. God speaks very gently to us when he continually invites us to make room for him in our lives. When we sense this invitation we find ourselves experiencing a bit of tension. The only way to make room for God - the only way to "start over" with Him - is to let go of that which may be blocking or keeping him out. To let go of the control we maintain over our lives, our desires, our goals, our plans, and our work. To let go so that the Lord can take over. To let go so that there can be room for Him. To let go, so that He may more fully and completely enter into our lives.
Starting over may be difficult, but it is worth every ounce of our being.