In these days that immediately follow our celebrations of Christmas, Epiphany and the Baptism of Jesus, all of the lights and decorations, all of the wreaths and pine boughs, all of the signs of these special feasts are gone. Our sanctuaries are relatively bare. And the focus of attention is now on us, the people of God, the followers of Jesus; we, too, who have been anointed by the Spirit of God we too have been baptized in His Spirit; we too have been sent to complete His mission.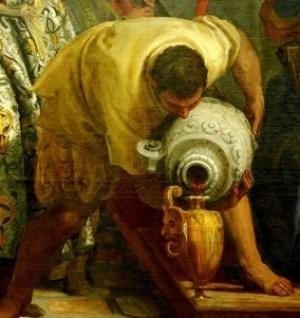 Liturgically, we experience a giant leap in time, moving from the birth of Jesus to His baptism some thirty years later all in a couple of weeks. We don't really know too much about what happened during those intervening years, except that Jesus grew in age, wisdom and grace, was an obedient, loving son, learned his father's trade, matured in His faith, prayed constantly to understand His mission, and then finally submitted to baptism by the Baptist as a sign of initiating His public mission. The Gospel of John then tells us that Jesus' first sign to the world was a compassionate gesture at the wedding celebration of friends.
A lot of things happen to us as well, as we journey from birth to our 30th year and beyond. We take years trying to nourish and understand our relationship to God, and looking for the particular way in which each of us will use our gifts for personal fulfillment and for the advancement of God's kingdom. When, as adults, we begin to live out that commitment, we become what Christ calls us to be - His witnesses, His peacemakers, men and women rooted in faith, powered by love, bringing the Gospel spirit and insight into every aspect of our lives.
But we need some kind of affirmation for this to happen. We need at some point in our adult journey to hear the voice of God saying to us with overpowering intimacy: "You are my son, my daughter; my chosen one; my beloved with whom I am pleased, upon whom I have put my spirit" - just as He said this to Jesus Himself.
It's no coincidence, then, that we enter into "Ordinary Time" with an image that speaks to us of God's faithfulness and steadfastness. Both Isaiah and John use the image of marriage to describe this relationship. Through Isaiah Yahweh tells us: "You shall be a glorious crown in the hand of the Lord, a royal diadem held by your God; and as a bridegroom rejoices in his bride so shall your God rejoice in you." And John's story of the wedding feast in Cana reveals just how much of a concern each of us actually is to a compassionate Lord.
The imagery of "faithful relationship" is a constant one throughout Scripture. We are told over and over how our God has embraced us as the ultimate Lover, how he delights in us, how He remains true to His promises to us, even when we fail in ours to Him. And yet we can find our true identity in knowing that despite our failures and failings, and despite our sometimes lukewarm and empty responses God remains as true to us as ever. The bond between God and mankind will always remain intimate and powerful.
We gather as the people of God precisely because we have come to understand and accept our identity. We are confronted again with the challenging truth that we are the ones called to continue the saving presence of Jesus in our world, to continue the work of Christmas. We come face-to-face with the fact that even though we may not be always conscious of this incredible gift, we too are sent today and every day to "take away the sins of the world."
St. Paul tells us that each of us has been blessed with special gifts and talents to accomplish this: wisdom, knowledge, faith - different kinds of gifts, different forms of service - all given freely and for a specific purpose.
The sanctuary may be bare but we are not. The decorations may be gone but the Spirit lives on in each of us. We are never alone. It may be "ordinary time" but we are called to do extraordinary things.