As we near the end of the Church's liturgical year, the Sunday readings focus on thoughts of everlasting life and resurrection. Belief in the resurrection of the dead came fairly late in Judaism. The book of Daniel, composed about the year 165 B.C. speaks of the belief in the resurrection of the dead. The book of Wisdom, written about the last half of the 1st Century, speaks of immortality, and while the Books of Maccabees were not in the Jewish canon of scripture, the Church has always recognized its inspiration and importance. The councils of Florence and Trent cited 2 Mac. 12:46 as one of its scriptural references when it formulated its doctrine on faith in a Purgatory. The story of the seven brothers and their mother shows that these martyrs were followers of the Torah and believed in a life after death.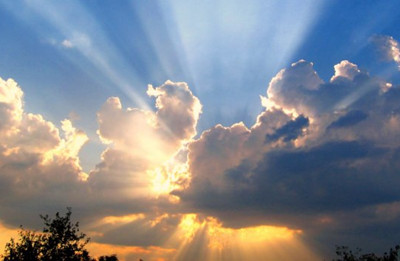 But life after death has always been an "unknown" to mankind, and the unknown is our enemy. We lose control when faced with the fact that we don't know "the day or the hour." It's hard to plan for a surprise, the unexpected. We all sense this kind of impotence when it comes to our future health or other critical circumstances. It's easier to live for the day, enjoy this world to the full and try to make life as comfortable as possible.
The Sadducees were people like that. Since they didn't hold to a belief in resurrection they made this world the source of all their energy. In their story of the woman who marries seven times they are hoping to show how a belief in resurrection is foolish. They hope to show that Jesus and anyone else who believe in an afterlife are foolish too.
Jesus tells us that we are a people of hope: hope in the promise of a God who loves us so very much and who wants so much more for us than what we can see and experience on this earth. Everything we do on this earth should be in living in that hope.
Jesus lived His life fully, celebrating each moment, each encounter, and each relationship with joy. He embraced human experience, drank deeply of human emotions, was nourished and comforted by human love. But He was always looking into the eyes of His Father. He was always conscious of the circle of His human existence, leading Him from God back to God. He never lost His sense of direction and purpose and in that sense He was prepared for whatever came. His love of the Father was integrated into all that He said and did and became. There was no event, no person, no circumstance that ever separated Him from His Father.
So we, too, must learn to live fully to love fully, to journey trustingly. In the face of our repeated failures, and even more, in the face of the evil that so often overwhelms us, we search for human answers and defenses but there are none. There is really only one answer and that is the leap of faith. We see the Risen Lord so often in the distance and through tear filled and clouded eyes. We hesitate we wonder how He could forget our betrayals we feel tarnished and unworthy but we know He is standing there waiting, welcoming, offering us the safe harbor of His embrace so we take the leap of faith into the open arms of His love and finally know peace.
If we try to live each day in that spirit of faith, it should certainly free us from fear of dying. But it should also change the way that we live. And I believe that's the important part of the Gospel Message. We have been given the wonderful gift of life. We are to treasure it, to nurture it and to nourish it - and this gift becomes more precious and valuable only when it is shared by us, generously and freely.
The Lord calls us to live this life with great hope and faith. We believe that Jesus Christ is the Life and the Resurrection. And, we believe that when we die, we are so fully engulfed in God's embrace that we become a part of his existence in ways we could never imagine and in ways that we can never describe. It is because of this that we can articulate the good news that living our lives in love has an eternal connectedness with living on in God after death.
So when the moment comes when we do meet Him face to face and see Him reach out to lead us across the threshold of death into His house of light and life, it should not be much of a shock or a surprise. He will not appear as a stranger or an enemy, but as a friend and companion. Then we will be possessed by His beauty, His life, and His love, fully and forever.