We are not good at waiting. Most of the time we want quick results and are frustrated when they are long-coming. Waiting on lines at the supermarket, waiting for traffic lights, for our children to return home at night, and even waiting for our computers to "boot up" in the morning can make or break our day. We are particularly frustrated and tired of waiting for peace to break out in Iraq, Afghanistan, the Middle East and innumerable places of conflict in our world.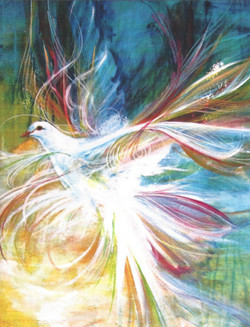 Waiting is not an activity that we do well. And why? Because it means someone else or some other power is in control of our little world, not us. And being out of control and subject to others reminds us of our frailty and our vulnerability.
During these weeks between Easter and Pentecost we have a chance to reflect on the difference Jesus' death, resurrection and ascension make on our lives. In our liturgies, we read these weeks from the Book of Acts to see how the early church struggled and survived during its first critical days. This early Christian community was mission-minded, wanting to out immediately to tell others the good news. But Acts begins with a strange message by the risen Christ to his disciples. Just before ascending to his Father He tells them to wait.
This had to be another upheaval of emotions for the disciples. They had gone through some tough times: seeing their Lord and Master betrayed, arrested and executed, bringing them to the edge of despair. They had heard from others that He indeed had risen, but still they doubted and feared, and finally experienced His risen presence for themselves in utter joy. They felt that they were now ready to get on with the business of proclaiming the Good News. Instead they are told to wait for coming of the Spirit - then they will know how and where to be true witnesses of the Gospel message.
Jesus tells the disciples to "wait for the promise of the Father." In reality, they aren't ready to go off spreading the news of his resurrection. They are a small, fearful community that has no power on its own. As the Gospels remind us, these first followers of Jesus have always had a tendency to get his message all wrong. What's more, when things got tough, they locked themselves in the upper room and went into hiding.
We are not so different from them at all.
So the disciples are told - as are we - to stop a moment, take a breath, and wait for God' promise to be fulfilled. And it's a difficult lesson to learn that this will come at God's timing, not our own. The Risen Lord wants them to break free of their limited view, their prejudices and tendency to misinterpret the meaning of his life. They will, he says, have to be, "my witnessers in Jerusalem, throughout Judea and Samaria and to the ends of the earth." For all this they will need help, so they must acknowledge their dependence on God and wait for Him to pour that help out on them. Waiting on the Spirit is a reversal of our usual mode of operating.
We, too, are to be witnesses to Jesus by the integrity of our lives and the commitment to his Gospel. And, like the first disciples, we need to wait for the gift of the Spirit who sustains us when the going gets rough.
Jesus has been preparing his disciples for his departure. But as we prepare to celebrate the Ascension and anticipating the gift of the Spirit on Pentecost, Jesus' words take on an additional meaning today for us, the faith descendants of those disciples around the table with him. His prays first for his disciples; later he will pray for us who have come to believe through the preaching of those disciples.
With the Ascension, his followers are to stay behind to carry on Jesus mission in the world. Jesus' prayer reminds us that we won't be on our own. His prayer is that we be faithful to God and to God's ways in the world. Accepting what Jesus did and taught, and then living this out in our lives, will also be a way in which we reveal to the world that we are "consecrated in the truth." We realize that we cannot maintain life in Jesus on our own. So, in our awareness of our need, we are primed for Pentecost when we will be renewed in the Spirit, who energizes us once more to live a life based on the truth of Jesus - who he is for us and who he is for the world.
One thing is clear in Jesus' final prayer for his disciples. He prays for us, not that we might figure a way to escape the world with all its pains and complexities. Rather, he prays because we must stay in the world and need to be kept safe and faithful to the task of proclaiming his word to an often unresponsive and sometimes hostile world. Jesus' prayer for believers wasn't just for those around the table at the Last Supper or for those who gathered to witness the Ascension. He is praying that our lives give witness to the love God has for us in Jesus. God loves Jesus and that same love is given us to share in the community of believers so that we will be a sign for the world and draw others to the God we have come to know in Christ.
And we will patiently continue to wait for the Spirit's touch in our lives each day - the results can be far more powerful than we could ever imagine.