The community for which Luke wrote was very different from the original followers of Jesus, and he writes to a group of people which has already gone through its initial fervor. The concerns of the early Christian communities are no longer present, and they had already come to realize that Jesus' return was not as imminent as the earlier disciples thought. It was a community that needed to be challenged again to live a life of prayer, maintain total commitment to the Lord Jesus and live a community life that would be a visible sign to others that Christ was alive.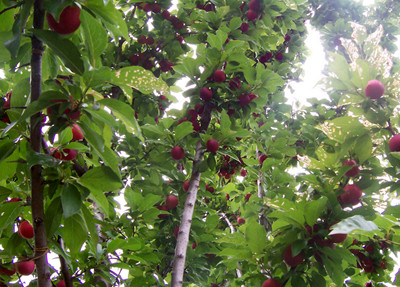 Today's passage continues his Sermon on the Plain. And again, we encounter paradox and what seems like a twisted divine sense of humor. Jesus is a very difficult model to follow. He makes outrageous demands on our sense of the reasonable. He seems to believe that we can transcend all of the limitations of our fragile nature. He invites us to be heroes, to be fools, to be clowns in the eyes of the unbelieving world around us.
And it sounds like a litany of foolishness... be poor, be meek, be hungry and thirsty, be persecuted...and then you will be happy! Let people walk all over you, let them slap you around, let them beg, borrow and steal from you... but, through it all, love them... and you will be whole and holy like your Father in Heaven. We really don't mind trying to share our bread with the hungry, our drink with thirsty, our clothes with the naked... but why does He want us to forgive seventy times seven times...why love our enemies...why not strike back when people hurt us?
It is easy to find faults in others; but it is just as easy to overlook our own faults. Or as Jesus says in today's gospel: "We see the speck in another's eye, but we don't see the log in our own." And notice the difference, a speck compared to a log. A little fault compared with a really big one. Why are we like that? Is it because we are naturally jealous? or envious? or basically negative and critical? and we have lived with our own faults for so many years that we have grown accustom to them, or perhaps have never known that we had the problem?
The answer is Jesus Crucified and Risen. The answer is wrapped up in this ever-present mystery, at the heart of our Christianity, of dying to ourselves so that the love of God and neighbor might come to full bloom in us. The Crucified Christ teaches us how to die...and the Risen Christ teaches us how to live. The Cross conditions us to self-denial, to contradiction, to failure, to foolishness for the sake of love. The Empty Tomb assures us that the victory and the power of the Risen Lord are ours. It is that power, transmitted to us by Baptism and come to full measure by our growth in and exercise of Christ-like love, that we defy the world and its standards. It is in that power that we are able to take on the foolishness of Christ and love as He loves, so that we are steadily made perfect in the very holiness of God. "Every tree is known by its fruit."
Christian living requires work, lots of sacrifice, discipline and love. It takes heroic love to make real the Beatitudes in our relationships. It's not really easy to be poor, to be merciful, to be meek, to be peacemakers, to hunger and thirst for justice. It takes a lot of courage to be persecuted and ridiculed and mocked for being authentic Christians, for being Christ like.
This is how we become be a sign to all outsiders observing us of radical inclusiveness, where all were equal regardless of social and economic standing.
Soon we will begin again the Lenten journey to our baptismal waters for renewal. We will commit ourselves again to our journey in community with Christ and each other.
This will be a time of important reflection and recommitment. Like Luke's community, we continually need to hear again the instructions of the Teacher. This should be our goal during Lent; this is our hope at each Eucharist shared together - that we will have our hearts and minds shaped by the Lord so that we can become more and more like him.