When Jesus talks about the "Good Shepherd" His intent is to focus more on the role of shepherd and less on the attitude of the sheep. God's people no longer see themselves as sheep. Nowadays, our people are generally much better educated, and better equipped to make their own conscience decisions. They are not content to be passive; they are often not submissive. They have come to a new understanding of their dignity and their role as baptized Christians, and they realize that they share the call to ministry, to evangelization, and to service - that they too are called to be "shepherds."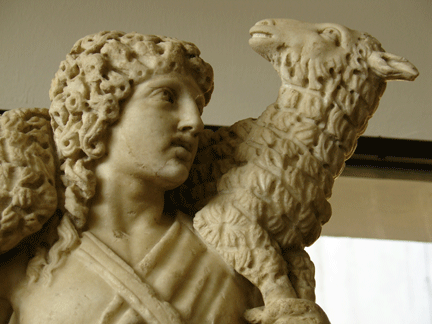 This image of a "Good" shepherd, as presented by Jesus, is much broader than simply the powerlessness and helplessness of the flock - rather He was modeling a life-style to which He was inviting all of his followers to share: one of concern and compassion, of service and dedication, one of relentless and abounding love. This can seem to be at odds with how the Church has traditionally viewed this image, so it is important for us to rediscover and reinterpret the message of the Good Shepherd in a clear and decisive language that speaks to the world about how we see ourselves as His disciples.
But how do we see ourselves? And how do others see us?

They need shepherds beside them in their suffering, they extend mercy to them, and they exhort and encourage them. I've found that while the kind of clichéd reverence that once typified Catholics' regard for their priests has waned, people still sense intuitively who the good priests are and accord them not just respect but love.

Sheherds need to lead, to guide; but the people of God need to be invited, not threatened; they need ministers who are in touch with the real circumstances of life, not aloof, ivory towered idealists. They need models of faith and hope, models who can lead them along the paths of prayer and spirituality, models who can inspire trust and courage in the face of suffering and trial. They need shepherds beside them in their suffering, who extend mercy to them, and who exhort and encourage them.

Perhaps this is what Pope Francis meant when he asked the priests of the Church to be shepherds living with 'the smell of the sheep" (Chrism Mass on Holy Thursday, March 28, 2013). Truly "good" shepherds need to be, above all, fellow travelers on the faith journey who can not only offer healing, comfort and support in the name and spirit of Jesus, but also recognize their own failures and weaknesses and humbly seek forgiveness and reconciliation.

"I am the good shepherd, and I know mine and mine know me, just as the Father knows me and I know the Father; and I will lay down my life for the sheep."

It's obvious from these words that our role as disciples of the Gospel is, first and foremost, that of reconciling, healing and uniting our people. We are to do that, not by using the power of the Gospel to instill fear and trembling; not to denigrate people who have differing points of view or belief-systems. Nor is it to exclude others, just because their expression of faith doesn't live up to what we believe to be the norm. In short, we are all shepherds; we need one another.

But it also continues to be painfully obvious that we all have a long way to go… When sheep lose trust and confidence in their shepherds, when they sense a lack of attention and care when they have no example to follow, they tend to scatter. And without a flock to tend, shepherds are no longer shepherds.


And the Gospel is blunt and absolutely clear in reminding us that our shepherding should be marked by compassion and justice, gentleness and reconciliation - by our own willingness to lay down our lives. Maybe it is time for all of us to re-examine just how willing we are to do just that.

In his Apostolic Exhortation,
Gaudete Et Exsultate
- (
On The Call to Holiness in Today's World
), Francis reaffirmed our call to discipleship and what it means to be a shepherd: "God is eternal newness. He impels us constantly to set out anew, to pass beyond what is familiar, to the fringes and beyond. He takes us to where humanity is most wounded, where men and women, beneath the appearance of a shallow conformity, continue to seek an answer to the question of life's meaning. God is not afraid! He is fearless! He is always greater than our plans and schemes. Unafraid of the fringes, he himself became a fringe (cf. Phil 2:6-8; Jn 1:14). So if we dare to go to the fringes, we will find him there; indeed, he is already there. Jesus is already there, in the hearts of our brothers and sisters, in their wounded flesh, in their troubles and in their profound desolation. He is already there." (135)
Jesus says: "My sheep hear my voice; I know them and they follow me. I give them eternal life, and they shall never perish." If we really believe this, if we really belong to Jesus, if it shows in our words and actions and choices - then we are guaranteed what Jesus has promised: life that never ends, life without tears, hunger or thirst.

Together we must find new ways to assure that all of God's people will never be without good shepherds.