The Gospel of Luke was written during a time of transition, as the early Christian community looked toward growing within the wider world. Initially the early followers of Christ were filled with the creativity and enthusiasm of a brand new faith community. But by the time Luke wrote, the danger for them was compromise and comfort. There were problems in the community as well as discouragement - and a loss of the earlier zeal and fire the characterized the first generation of believers.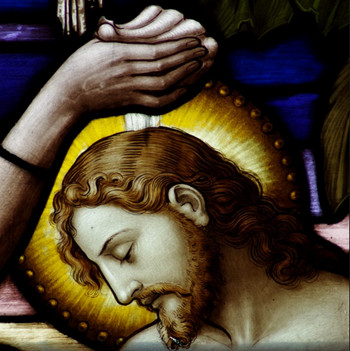 And so Luke's Gospel deals with the issue of Christians who are tiring and being distracted by the world around them. These were second or third generation Christians. They had not seen Jesus or personally witnessed the wonderful things that he had done. Like us, they had to make a decision to follow Christ and to be faithful to a community of prayer and service. Disciples in this Gospel are asked to live totally dedicated lives as they wholeheartedly embraced their own baptism.
Most of us were baptized as infants. The decision to be baptized was made for us. But as we celebrate the Feast of the Baptism of the Lord we are reminded of the ongoing implications of our own Baptism: that moment when God seized each one of us, made us His own in a special way, anointed us with His Spirit, and commissioned us to continue the mission of Jesus.
The Gospel of Luke will continue this theme over and over as we come together throughout the liturgical season of "Ordinary Time." This will be a time when we are again seized by God, anointed by the Spirit, declared to be His beloved - to be light - to bring justice - to heal the bruised - to help keep smoldering wicks from going out.
We cannot be merely onlookers as Jesus lives out His mission - we are disciples, followers, imitators - seeking opportunities each day to bring light, to heal the wounded, to act against injustice, to use our power to set others free, to be at all times and in all circumstances peace-makers. Living that way, day by day, we can be assured that God continues to let His favor rest on us, and identify us as His beloved, His anointed, His holy ones. This is our story... our ministry.
And ministry, at its deepest level, means "to be present" to others, not just "serving others." Ministry means to care for others enough that you are willing to "be with" them, to suffer with them, to keep on paying attention to them, to bring them hope and peace.
More importantly, it is only when we acknowledge our own weaknesses, our loss of way and our suffering that we can celebrate the love of what we have become through Christ. We need to remember not only the health, gain and virtue - but also the tragedy, the loss, the death and the setbacks - in order to be able to see the road we have traveled. It may be painful, but we need to understand the total picture in order to measure the progress of our faith-journey.
When we finally and fully understand what has happened to us because of Christ's Baptism, and when we actually begin to live out the baptismal commitment we proclaim, we are then what Christ calls us to be - His witnesses, His peacemakers, men and women rooted in faith, powered by love, bringing the Gospel spirit and insight into every aspect of our lives. The gift of Baptism is one in which all of us are entitled to hear: "You are my beloved, with you I am well pleased."