We listen, and wonder and pray, while we get caught up in the flurry of activities that accompany our preparation for the Christmas holiday. We know this holy season of Advent is important for us. We hear the words of promise and of exhortation. What Isaiah saw in prophetic vision we have learned from history. He described what the person and mission of the Messiah would be like; we know from apostolic witness how perfectly Jesus fulfilled that vision and promise. And through Baptism, we have become members of His kingdom of justice, peace and light.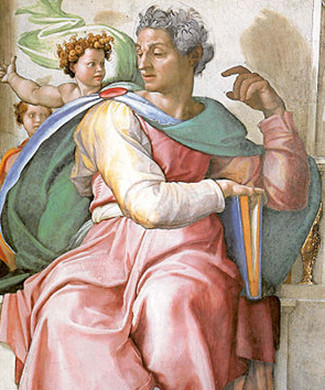 But His coming is an ongoing mystery. He needs us and uses us to "make straight His paths." Like John the Baptist, we are called to hasten His coming in our own time and place. We continue to "prepare the way of the Lord."
Perhaps we still walk the crooked way. We take detours around the challenges of Christian justice. There are hills of conflict and valleys of depression on the road we walk. And we are so busy! There just isn't enough time to worship and to pray. Our energies are all used up with work and home and family. We have no strength for volunteer work, or visiting the sick and elderly, or reaching out to young people.
But we need to remember: It is the face of Jesus we see when we look at the poor, the sick and the homeless. It is face of Jesus we see when confronted with troubles, suffering and failure. We see His beauty and power in all of the good things; we sense His crucified presence when touched by pain and sorrow; we are energized by the power of His resurrected presence when we are buried by weakness, defeat, or death in any form.
Our struggle, however, is not a solitary one. First, we are assured of the Lord's presence and His help. Second, we have the faith community praying with us and for us. These are days of hope! Jesus is waiting, patiently, compassionately. But He wants to come to each of us, completely and totally. So we try again during these special days to clear the way for Him.
The voice of God echoes in the words of Isaiah: "Comfort, give comfort to my people; Fear not! Cry out: Here is your God! Like a shepherd he feeds his flock." This spirit of hope and reassurance must fill our Advent journey. In unwavering faith, we must look beyond the sufferings and trials of the now to see the good things that are happening because of Jesus and His kingdom.
The temper of our times calls for us to banish fear and be sources of strength and courage to those around us who are really destroyed by the evil of our day. So many of our contemporaries have lost hope. They are convinced that the forces of evil have prevailed. They want to give up. They don't have the heart to keep trying. They don't have any reason to rejoice, to celebrate, to sing and dance in the Lord.
Our Christmas message of peace and justice, of love and joy cannot be mere empty words written on a card or sung in a carol. We must make these words real, tangible, visible in our actions, in our concern, in our sharing and giving, in our of stewardship of Christ's Gospel.
Advent reminds us of our mission:
Advent is not just a season of the year but a way of life for those who wait in happy expectation of the day when "the glory of the Lord shall be revealed." We already know the One who is returning. We remember his first coming with rejoicing. - Sister Genevieve Glen, OSB
Like Isaiah, we cannot be silent. We cannot be afraid of contradiction and ridicule. We cannot be afraid to pay the price for carrying on the prophetic mission of Jesus Christ. "Comfort, give comfort to my people!"
Graphic - Michelangelo: The Prophet Isaiah