Life is full of anxieties and worries - and the voice of the Gospel is so easily drowned out by the clamor of commercials that tease us into buying much more than we really need - by the promises of security proclaimed by everyone from insurance agents to software vendors - by the persistent whispers and warnings that come from our deep-rooted instinct for self-preservation, reinforced by the time-honored - but not necessarily true - adage: "God helps those who help themselves."
A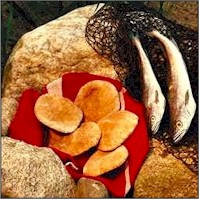 mid all of this, the Gospel story speaks a much more powerful message. The miracle of the loaves and fishes shows Jesus' deep concern for those around Him. He recognizes their need and from little produces an abundance of nourishment to fill the hunger of the multitude. Jesus is the compassionate healer who simply cannot resist the tattered crowd and the Gospel stresses the inclusion of the disciples in His power to feed and heal. But this event is also a precursor of what is to come. Not only does He satisfy our bodily hunger, but the Lord has also provided us with appropriate nourishment - food that fulfills all of our hungers and thirsts - the Eucharist.
It's interesting to hear Jesus tell His disciples: "Go and feed them yourselves..." The Eucharist is not simply the presence of Jesus in our midst, satisfying our every need. He is present in order that we might be present, that we might be empowered, that we might be energized in a way that we could never be of ourselves.
And that is why we come back to the Eucharist again and again - to be re-rooted, to experience again the mirror of who He is and who He calls us to be. The whole point of the Eucharist is not simply the presence of Christ, but how each one of us allows Him to be present in ourselves and present in the world. How do we become Eucharist - His body and blood - for one another.
God's love for us is more than enough to satisfy our needs, and simple faith is a trust in God's love in the ordinary circumstances of life. Trust leads to fullness and peace, and it drives out obsessive anxieties.
Matthew's version of this story shows that the early Christian community continued to find new levels of symbolism in this miracle. The gestures of Jesus, the focus on the bread rather than the fish, and the careful collection of the fragments, have strong Eucharistic overtones. And Matthew highlights the role of the disciples throughout the whole episode. They do not rudely oppose Jesus, as they do in Mark's version of this miracle story, but are important mediaries, who distribute the bread and gather the leftovers. The disciples share in Jesus' ministry.
We all live from day to day, trying to be ready for whatever comes. But there are always challenges that seem to demand much more from us than we are able to give... family sickness, troubled children, ailing parents, stress and failure on the job, crime, drugs, and the violence and terror of the world around us. So often it seems we just about overcome one set of difficulties when a whole new and unexpected series of events meet us - we don't seem to have the strength to keep coping. How often our journey becomes tiring and discouraging! We can lose heart; we can give up, sometimes at the brink of despair.
That is why Jesus left us the Eucharist. He invites us to sit down with Him, to find some peace and rest, to refresh our minds and hearts with the example of His patience and courage in suffering, and then to feed on Him. Reinforced with this remarkable Food, which fills us again and again with His life and spirit, we can get up and find within ourselves the strength to persevere on our journey... and to help one other on our own unique journey of faith.
The spiritual energy that is generated by our sharing in the Eucharist is not dissipated in a day or a week. It's an abiding source of vision and strength. Jesus, the Bread of Life, enables us to keep going, to lift our heads high, and to keep walking until, together, we arrive at the mountain of God.
And His directive is always before us: "Go and feed them yourselves."