Life and the scriptures frequently stand in stark contrast to one another. Which shall we believe, and where does wisdom for living lie?

Today's Gospel passage includes three elements: a prayer of thanksgiving for what God has revealed, a statement proclaiming Jesus' identity and finally an invitation to turn to Jesus.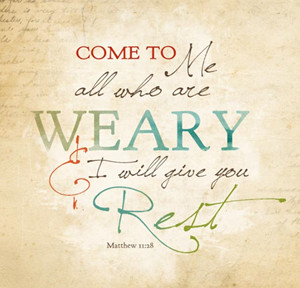 While today's text has strong comfort appeal to anyone who is burdened or suffering under life's heavy demands, the original sense of the passage is quite specific. Biblical Scholars identify these texts as coming from the "wisdom tradition" of the Hebrew bible. God is offering a new wisdom to those who hear Jesus; but there are those who do not accept this gift.

Today's passage comes after stories of rejection. Jesus has just taken to task the religious leaders and those in the Galilean cities who have rejected his word. They were the clever ones who thought they already knew what they needed to know. In their pride and lack of humility they ignored the wisdom that God was making known in Christ.

These were also the religious leaders the people attributed with having knowledge of God and God's ways. The ones rejecting Jesus were the very ones the people turned to for instruction on how to behave, how to live in accord with God's will. The "wise and the learned" did not recognize God staring them in the face.

But how wise were they after all?

Matthew adopts the wisdom motif to point to Jesus as God's wisdom made flesh. Jesus is speaking to those wearied by the heavy burden of the religious law with all its observances. Wisdom doesn't come from our own efforts or learning, it comes to those gifted with it by God. Jesus' way and his teachings are God's gift of wisdom to anyone who would receive it. And he challenges us to determine what is the wise and what is the foolish way of living, and to make a choice. To accept Jesus is to accept the "wise" way to live.

Religion can sometimes be a terrible burden. There seems to be so much to know and, so little leisure time to learn. For those who are burdened by the guilt that comes with violations of religious law (the "yoke"), Jesus offers his own "yoke." But his yoke is rest and welcome for the outsider. The very ones religion considers unworthy of God are the ones Jesus is reaching out to welcome, "Come to me all who labor and are burdened... Take my yoke..."

The wisdom Jesus offers tells us that we don't have to accept a long list of rules that will cover all of life's circumstances. That would be an impossible list to read, much less follow. Rather, we are invited to look at the world through Jesus' eyes, to accept his wisdom. To him we are all sons and daughters of God. We may look different and speak differently, but beneath the surface we have the same parent, God who loves us all. We are not strangers to each other; we are members of the same family.

The wisdom Jesus offers is not a series of teachings, things we must learn or achieve through our own pursuits. The wisdom he offers is not book knowledge, but a Person - himself. We come to that wisdom by following and staying close to him; observing his actions; listening to his words; imitating him and seeing the world from his perspective. That's what makes the disenfranchised wise and those who claim they know everything, foolish. Quite a twist; but it is a Gospel twist: the wise are foolish, and the "little ones" wise; or put in another way, the first shall be last and the last shall be first.

The wisdom Jesus offers is in stark contrast to the "wisdom" offered by conventual thinking. The wisdom Jesus offers invites us to treat each other like brothers and sisters. We don't have to have advanced degrees in theology, ethics or psychology to do that. Each one of us can live in wisdom if we each act in this way. We may not always like one another, but with God's grace we can strive to love as Jesus loved. So, by actively loving our neighbor we act united with Jesus, and so have learned how to be like him, with a "meek and humble" heart. His life and his teachings have taught us where true wisdom lies - and such wisdom is accessible to everyone who accepts him.