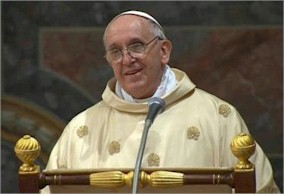 We have a new Pope. Jorge Mario Bergoglio of Argentina was selected by the Cardinal electors as the 266th successor of St. Peter. His chosen name: Francis. The selection was a surprise for many and from the very outset, Pope Francis showed himself to be different from his immediate predecessors.
Appearing at the Loggia balcony for his first public appearance as pontiff, our new Holy Father broke with tradition and came dressed in a simple white cassock, wearing his own simple cross. He spoke gently, greeting his "brothers and sisters" with a simple "Buona sera!" And before he blessed the thousands in the piazza below, he asked for their blessing upon him.

What our new Pope has ahead of him looks fairly impossible and Francis faces an immense array of challenges. He has to confront both the world and the Church in a way that allows us to believe that despite uncertainty we can dig deep into our Tradition, reinterpret our theology into one that makes sense to a modern world, while looking towards a future full of promise.
In truth, the world is waiting and watching. The Christian way of life, from the first Easter Sunday until today, continues to offer renewed vision and hope to the human family. Those who do not share this faith know what it claims and what it promises. They hear the Gospel of peace, of social justice, of reconciliation, of compassion. They know that these values could and should dramatically change the quality of human life all over the globe... but they also know that there are issues that need to be addressed - and they will look to Pope Francis for solutions:
The need to put accountability measures in place regarding sexual abuse and cover-up

Establishing collaboration and respect at all levels of our Church

Ensuring involvement of lay people - especially women - in Church governance and ministry

Opening ministry to people in relationships and marriages

Developing a sensible Church teaching on human sexuality, and respecting individual conscience in matters of sexuality and reproduction

Restoring a focus on social justice concerns, such as poverty, war, the environment and basic human rights

Pope Francis is known to be a warm, pastoral figure, a good communicator, a champion of the poor and displaced and as one who might have more success reversing the church's image than did Benedict, even without a major change in church doctrine. Evangelization cannot be separated from a reform of curial structures, from greater collegiality or from a serious assessment of where the "system" has failed miserably. Not an easy task...
Legendary college basketball coach Bobby Knight has just written a new book called The Power of Negative Thinking - An Unconventional Approach of Achieving Positive Results. Knight has the second hightest win record in NCAA history (902), and in his book he explains that victory is often attained by the team that makes the fewest mistakes. His coaching philosophy was to instill discipline by "preparing to win" rather than "hoping to win." That means recognizing and understanding performance mistakes and failures, and then drilling his teams to prevent those things from happening again. And when his teams did win, he made sure they didn't dwell on their success, but rather looked immediately to the challenges of the next game.
Our new Holy Father needs to act in a similar way. There is nothing wrong in admitting weakness and tragic failure - as long we can learn from this and take positive, visible steps to eliminate those failures in the future. The new pope must understand that we are at a pivotal moment in the history of the Church. "Business as usual" is dangerous to the Church, threatening to tear it down in the eyes of the world. "Francis" might be the perfect name for our new pope; it reminds us that another Francis, from Assisi, was one who was able to converse with wolves...
Each year during Holy Week we are invited to bring the heart-aches of our lives, our own personal broken dreams and moments of failures to the Risen Christ. We relive the final days of the Savior in order to reinforce our conviction that resurrection always follows death, that victory always crowns our failure.

This is an important message for the world - and at this time in history, the Church needs new methods to reach the minds and hearts of people. We can no longer simply rely on blind obedience, or tradition, or the threat of eternal damnation. We must touch the most fundamental needs of people's humanity, and help them to see how uniquely the gift of Jesus and His Gospel fulfill those needs.
And so we pray that our new Holy Father:
will be a Shepherd not afraid to ask, to listen and learn, to change his ideas, to travel and grow with his pilgrim Church;

will be a Shepherd willing to trade his scepter of absolute power for the staff of gentle, respectful leadership;

will be one who, like John XXIII will open the window of aggiornamento once again, doing so with the smile of John Paul I, the exuberance of John Paul II, the intellect of Benedict XVI, and the humility of Francis of Assisi;

will be one who will reflect the Jesus of the Gospel: Wisdom Teacher of the Beatitudes; not a detached dispenser of wisdom, but the Compassionate Healer whose words can make a broken people whole;

And finally, one who will be a Shepherd rooted in the richness of our past, and yet courageously willing to lead our Church into the future.
We approach Holy Week with renewed expectations. And while "hope springs eternal," we know that there is much work yet to do.